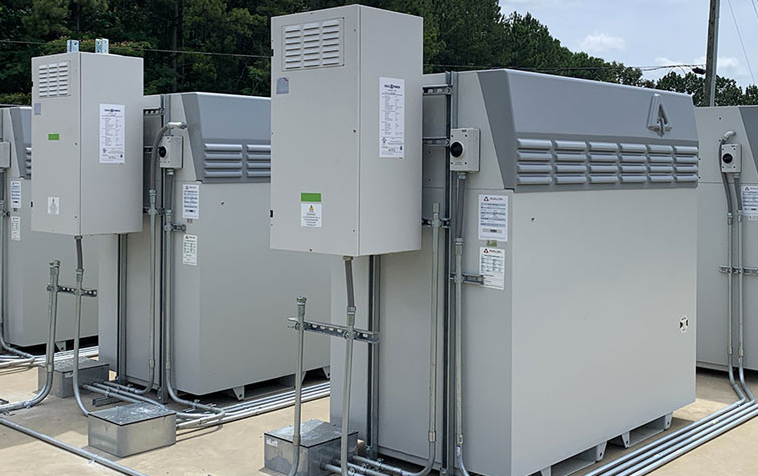 Invinity scales up manufacturing activity with support from Synovus Solutions

Invinity is the global leader in development and manufacturing of Vanadium Flow Batteries (VFB). Invinity's core technology is developed and manufactured in Vancouver, Canada where the company constantly looks for ways to scale up production and drive down costs, while maintaining excellent quality control. The factory-produced modular VFB architecture requires every battery to be tested before it ships to ensure quality and ease of installation.
To help on this continuous improvement, Invinity found a great partner in Synovus Solutions, another Vancouver based tech company. Synovus supplies Automated Test Systems (ATS) to leading battery and fuel cell companies across North America. The unique expertise of Synovus is their ability to offer custom solutions with the reliability typically only found in an off the shelf product and the flexibility to address each application's unique requirements. "The solutions from Synovus enables Invinity to quickly and cost-effectively scale up our factory acceptance testing processes, while giving us more control over test parameters with greater automation than other solutions." says Joe Worthington, Invinity Communications Director. This is a great example of how Invinity is applying innovative technologies to push the state of the art in VFB manufacturing.
"We are very excited to be able to help another clean energy company scale up its activity." says Olivier Lessard, Synovus' President. Synovus' solutions focus around two unique components: SBX, a reconfigurable I/O box with a NI CompactDAQ chassis and Symplify, an open LabVIEW based platform. "Synovus reduces the typical troubleshooting time of transitioning to manufacturing test automation with our focus on delivering real-time information about all aspects of the ATE, including our clients' products." says Olivier. SBX includes data acquisition (DAQ), isolated IO modules and built-in hardware safeties such as watchdog and interlock circuits to accelerate the development of ATE. Coupled with the flexibility of Symplify, Python and LabVIEW, clients benefit from outstanding diagnostic information and this empowers Synovus to complete its work entirely remotely whether clients' activities are local, in Europe or in Asia.
Read more about Invinity here.