Synovus Solutions is releasing Symplify™ 3.4 this week and we are please to announce all the latest improvements for our existing clients but also for other developers. This latest version is the first one available as a standalone product for companies needing a robust LabVIEW platform to get reliability and flexibility through R&D and V&V activities. Since testing prototypes involve a lot of unknowns and frequent changes, you need automated controls that will frequently run tests and quickly provide answers to a broad range of questions.
Open Source drivers
As you can see in our new video gallery, our DAQ driver for National Instruments tools and other common lab instruments are available without any programming and they are open source so you can quickly modify them for your specific task or use them to run your test profiles immediately.
Central Data Collector
CDC, in short, is a feature that our developers have been using for quite some time and we are now releasing it. This is a high-performance communication mechanism that allows any piece of code to be enabled or disabled at run time and send back any information. With virtually no impact on performance, this can be used in compiled application for operation such as measuring execution time of any section of code in micro-seconds or viewing any elements in a class private data hundreds of time per second.
10 kHz Real-Time control
Synovus continues to invest a lot of efforts to make sure that Symplify™ is compatible on National Instruments Real-Time products. This latest version can run concurrent time loops as fast as 10kHz with full diagnostic and execution monitoring enabled. The CDC is fully compatible with LabVIEW Real-Time so you can monitor any wire value and code execution from your PC with a fully optimized Real-Time executable.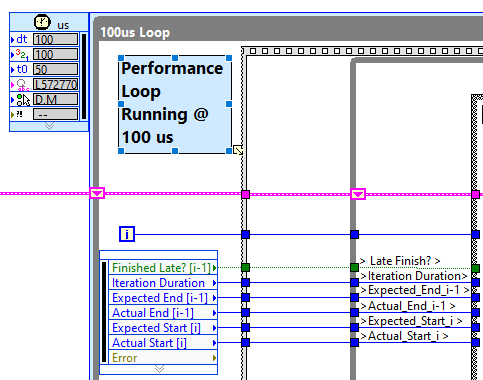 "TDMS Viewer" support CSV file formats
After releasing a TDMS Viewer utility last Fall, many clients asked us about adding support for more typical CSV and Tab delimited file formats. The newest version supports all 3 file types and we improved the performance so you can review a week's worth of execution details in less than 1 minute!
Improved graph
One key feature that differentiates Symplify™ based solutions is the amount of information that can viewed about both the product and about the test system. Even with thousands of Tags, any combination of them can be displayed on one or many graphs with multiple days of history. In Symplify 3.4, we added cursors to make comparison between multiple points easier, we increased performance to support more plots per graph and we improved the interface to speed up typical operations.